All myDNA tests are very simple to complete, and can be done in the privacy, safety, and comfort of your own home. Completing the swab and then activating your sample only takes a few minutes and a few simple steps.
Here's how to complete the swab test and get one step closer to your DNA insights.
Be sure not to eat, drink, or smoke for at least 30 minutes before swabbing.
Remove the swab from the plastic protective pouch. Open the swab tube by holding the white cap and pulling it away from the container. It may require a small amount of force to open. Be careful not to touch the swab head with your fingers, as this can contaminate your sample. Retain the container.
Holding the swab by the cap, insert the swab between your cheek and lower gum. Rub the swab over your cheek for 30 seconds, then repeat on the other cheek.
Place the swab back into the tube it came in. Press it in firmly until you hear the lid click into place.
Fill in your details on the provided barcode sticker. Peel the lower barcode section off and attach it onto your tube so that the barcode runs horizontally across the tube (not wrapping around the tube). The top half of the barcode sticker is for you to keep. This contains your activation code for registering your sample.
Activate your kit online or in the myDNA Unlocked app. To learn how to activate your sample for your specific kit type, follow this guide. When prompted, enter the unique code from your barcode sheet.

Note: Even after activating, please retain your barcode slip. This will assist our customer support team if you need to contact us at any point.

Once your sample is activated, you're ready to mail it back to us! Place the swab into the reply-paid envelope provided in your kit box. Ensure it's securely sealed and then post it without delay. The sooner you post your sample, the sooner you'll get your insights!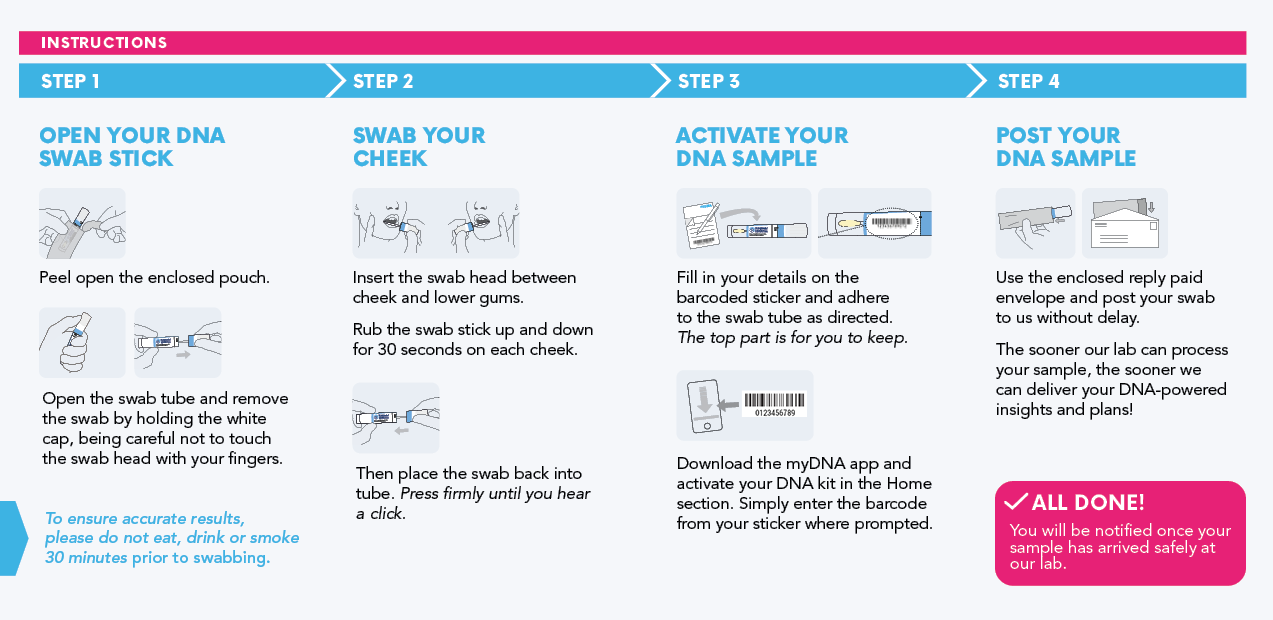 We'll be in touch via email to keep you in the loop regarding your sample status. You will receive an email when your sample first arrives at our lab, and then another once your analysis is complete and your results are ready.
Unfortunately, the reply-paid envelopes cannot be tracked in the postage system. If you receive any emails reminding you to post your sample after you've already posted it, they are safe to disregard.