We aim to provide the most comprehensive and all-encompassing health solution available on the market. No other provider of DNA testing, meal plans or fitness plans gives you the same level of value and personalization.
Check out the table below to see just how comprehensive myDNA testing is in comparison to other DNA testing and plans.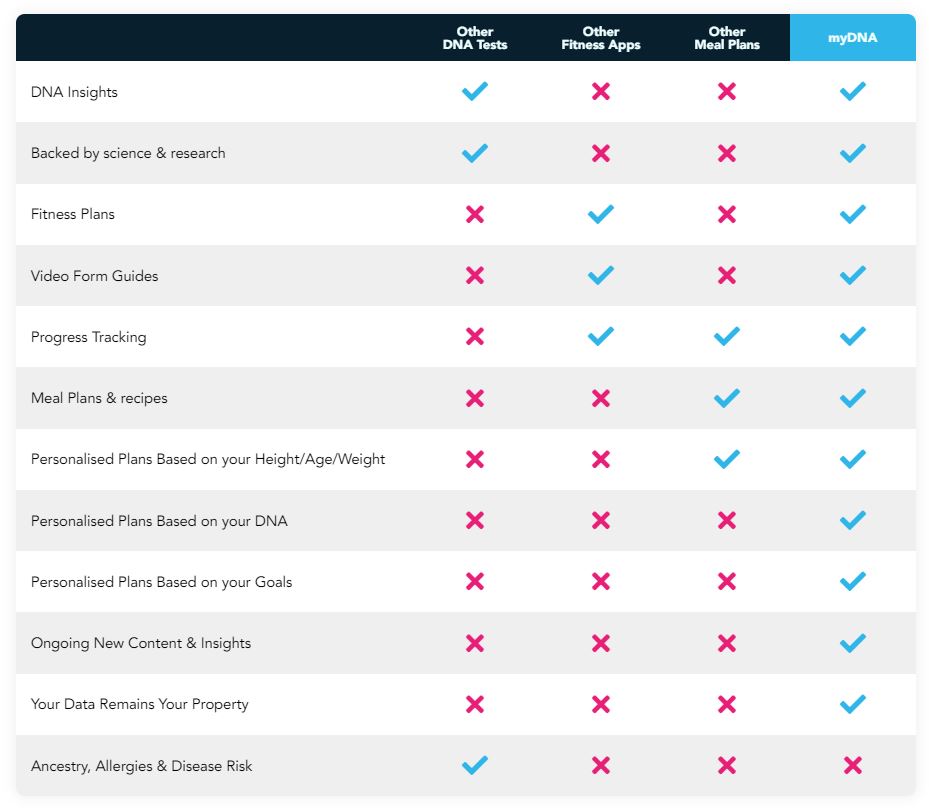 We provide actionable plans that can help you achieve your goals by putting your DNA insights to action. Unlike other meal and fitness plans, all our plans and recommendations are powered by your DNA and backed by science and research. Furthermore, all our plans are personalized based on your lifestyle factors including your height, age, current weight, activity levels, goals, and dietary preferences.
All our plans are complete with recipes, workout video guides and progress tracking so you can be sure you're on the right track to achieving your goals.
While other DNA tests may require a blood test, myDNA uses a non-invasive cheek swab that can be completed in the safety, privacy, and comfort of your home in just one minute. And compared to other testing, myDNA goes one step further than just giving you a list of results. All our DNA insights are written in down-to-earth, easily understandable language that helps you understand exactly how your DNA affects your body and what you can do to change your lifestyle to work with your genetics.
There are, however, certain aspects of your health that our testing does not examine. These include allergies, ancestry, and disease risk. For more information, this article explains in detail what isn't covered by myDNA testing.
No other test gives you this level of personalization. We know everyone is unique, which is why we strive to give you tailored information you can actually use, for life.